OUR YELLOWSTONE
ADVENTURE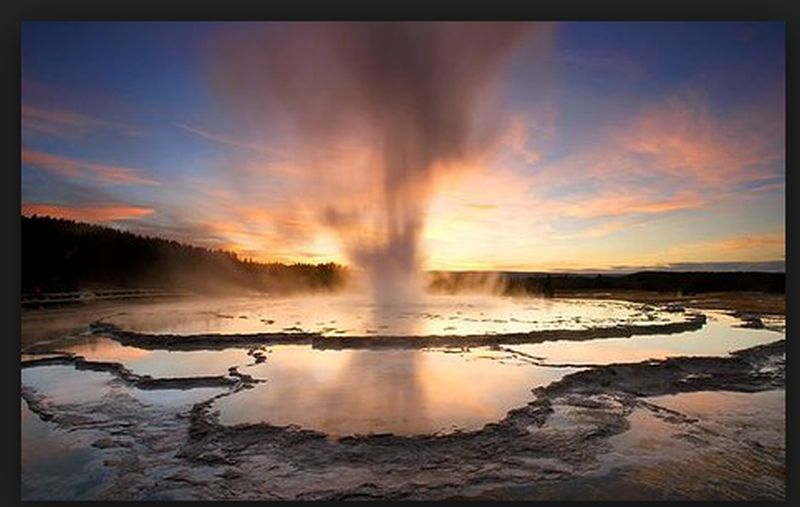 Click a button to go to that page
On Wednesday, May 25th, 2017, Pam and I drove up to Las Vegas to meet up with our dearest friends (actually - we consider them our extended family) - Mary and Bill. Our ultimate destination - Yellowstone National Park!!
At 3:30 AM on Thursday, May 26th, Bill began his long drive to Jackson Hole, WY. Pam, Mary and I were driven by their son, Marc, to the Las Vegas airport where we boarded a United Airlines Flight around 10 AM destined for Denver. After a two hour layover, we boarded another jet to Jackson Hole Airport.
Bill arrived at Jackson Hole Airport a few minutes before we did (talk about timing!!!). Pam, Mary and I boarded Bill and Mary's Suburban and Bill drove us for a couple of hours through the Grand Tetons and then through the South Entrance of Yellowstone National Park arriving at the Old Faithful Inn - our reserved lodging for this 6-day 5-night adventure in our nation's first National Park! The suite we had was spectacular - overlooking the Old Faithful Geyser that goes off every 90 minutes (give a take a few). The Old Faithful Inn is absolutely fabulous - very ornate decorations, with great food in their dining room, very friendly and competent staff, and the point of departure for many of the park's tours/excursions. I have a page just dedicated to this historic Inn.
This was Mary and my first trip to Yellowstone. Both Bill and Pam had been there once during their youth. The park is best known for its unique geysers. But there is a lot more to see there than just the impressive water shows! There are mud pools, steam vents. water falls, bison everywhere, a beautiful canyon and the list goes on!
Mary set us up for three great excursions during our visit, and I will include information about each of these on separate pages! Definitely, we recommend all of these excursions. The tour guides we had were all outstanding.
I have also set up pages to share images and movies of the geysers - the park's most spectacular attraction in my opinion. Also, there are pictures of the animals we saw while visiting the park. There area grizzly and brown bears, but I was unable to get pictures of them. One brown bear made its appearance in one of the parking lots during our first excursion, but he scooted away before I could capture him on film!
On May 31st, Bill drove Mary, Pam and me down to Jackson Hole Airport in the morning arriving there about 12:30 PM. He then continued his drive back to Las Vegas while we flew first to Denver, and then to Las Vegas - retracing our path 6 days before. We arrived back at their Las Vegas home around 7 PM; Bill pulled in around 11:30 PM. He encountered construction on the return trip that added another hour or so to his trip.
With this as an introduction, grab your iced tea or other favorite drink, settle into a comfortable chair and enjoy sharing our experience in this beautiful Yellowstone National Park.
_________________________