| | | |
| --- | --- | --- |
| Toy Shop | Red Baron (Snoopy) | Merry-Go-Round |
| North Pole Express | Navity | Teeter Totter |
| Full Display | Train (on 12/9/2010) | Cabbage Patch Dolls |
| Animated NOEL on Roof | Train Station (not finished) | Coal Car |
| Circus Car | Caboose | Caboose (rear) |
| Burbank Buses Tour | Grinch on Train Signal | |
Our 2010 Christmas Display Video (HD)
Our 2010 North Pole Express Video (HD)

2009's Display
You can click on any image below for a larger view. For those of you interested in a bit of history, on November 8th, 2009, we temporarily rolled out our new North Pole Express train to test it. The neighbors from across the street spotted the new train, came flying over with their kids and they all loved it! You can see it below along with the Hammer (our newest attraction for our last year of the analog display - 2004). The train has its own sound system and steam generating unit!
On 11/16, the Merry Go Round was fully assembled and operational! You can check it out in the pictures below. It is great to have it back as part of the display. We finished the toy shop (except for some tinsel) on November 19th. We rolled out and set up the new train permanently on November 23rd. Wow - is it getting attention! The sound systems for the train and Merry-go-round were permanently activated on the 23rd as well. We kept on track for our December 5th opening night.
We have to share this with you! Each night when we turned on the display for a short time (to check out what we completed that day), a neighbor's young son (Jack) - 2 years old - on the street behind us spotted the lights on the top of the tall poles go on. He would yell to his mother, "It's on! Let's go!" They would race around the block to see the display and check out what we did for that day! It was so cute! I figure they will be at the display every day once we start operating it.
Here is a picture of the 2009 display taken on December 5th. You can see the new Ferris wheel on the left.
Here is a video of the new 2009 North Pole Express train on its trial run! Click on the image below!
Click on the picture below to see a neat video shot on 12/14/2009 by a visitor to our display.
Thanks, Bob, for the great video!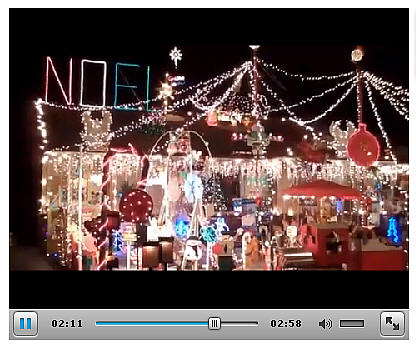 You can watch this video full screen at the Flip site by clicking the lower-right two arrows
Here are the 2008 display progress pictures of our last digital light show.
| | | |
| --- | --- | --- |
| 11/02/2008 | 11/03/2008 | 11/09/2008 |
| 11/10/2008 | 11/14/2008 | 11/16/2008 |
| 11/21/2008 | 11/28/2008 | 11/29/2008 |
| 11/30/2008 | 12/06/2008 | |
Our display was featured on The Learning Channel's 2007 special
More Crazy Christmas Lights
It was also featured on KCAL-9's evening news on December 10, 2008
Click the YouTube play button below to watch the clip.
Please enjoy reading about our prior displays - and enjoy the videos! We have uploaded most of them to U-Tube for easy viewing.
* * * * * *
The display can be viewed during the holidays at 513 North Florence Street, Burbank, California. We are between the 134 (Ventura) Freeway and I-5 (Golden State). As we approach Christmas Day, parking becomes a significant problem on Florence Street. You may want to park on either of our cross streets (Verdugo or Clark) and take the short walk to the display.
* 2007 DISPLAY *
This was out third year for our digital theme park! We added some new items and animation. The picture of the display is below.
2006 Winner - Burbank's Outdoor Decorating Contest
Each season, the City of Burbank has a contest for the best decorations in the city. We were proud to announce that Norton's Winter Wonderland was chosen as one of the winner's in the 2006 contest. The presentation of the Award was held at the City Counsel Meeting at 6:30 PM on Tuesday, December 19th and was broadcast on Burbank's Channel 6.
Our neighbor, Keith LaPrath, was also chosen for this distinguished award - and we congratulate him on another year of recognition for his beautiful display. We think that it is great that two of the five winners are within 6 doors of each other on the same street!
What makes our displays so unique is that element of being crafted by their owners! They are one-of-a-kind - not duplicated anywhere in the city or elsewhere! We think that creating a unique one-of-a-kind display is far more interesting to visitors than simply buying all sorts of commercial decorations and covering the property! I can tell you that the amount of work, time and costs that go into creating a unique home-made display is considerable.
For those of you who visit our display in person each year, we wanted to let you know that both Keith LaPrath (Winter Snowland) and our family stopped entering the Burbank decorating contest after 2006. This provides the opportunity for other beautifully decorated homes in Burbank to receive recognition for their displays.
Opening Night - December 2, 2006
Above is an picture of our 2006 display. You can click on the image above to go to the section of this site dedicated to our newest display. What follows below is more information on our new display, but also a LOT of information on our former "analog" display that we ran through 2004.
Our original "North Pole Express" train - always a BIG favorite with the kids and adults - is proudly displayed with other beautiful decorations at 425 North Catalina - one block west of our street, and one block south of us (south of Verdugo Avenue by about 200 feet)! I hope you will drop by this address and see part of our history - and well as other beautiful decorations they have added!
Wow - were we burning the power with the digital light display!!!! We consumed over 90 AMPS - the most power we have ever drawn for any of our displays up to that time! When it is on, I tell the wife and daughter - NO turning on the oven, toaster, microwave, hair dryer - or anything that takes power!
Did you spot the growing use of LED attractions? They are the bright blue lights you see in the picture of our 2006 display above. LEDs give off a different form of light that makes them very brilliant. They are also very inexpensive to run (compared to traditional rope light). Unfortunately, the cost of LED rope light is still many times greater than standard rope light. To see additional images of our 2006 display, click here.
Channels 2 and 9 featured our 2006 display on their evening news on December 12, 2006. Click below to watch the telecast on u-tube! Keith LaPrath's display was featured on Channel 9 on December 13th. Congratulations, Keith!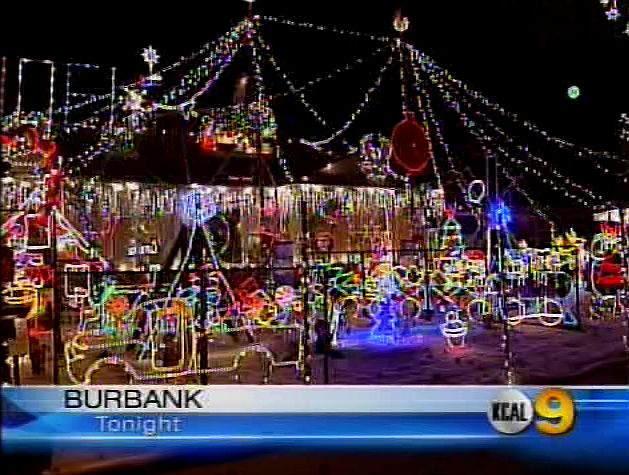 Opening night of 2005's display - 12/03/2005
Our new display was a big hit in 2005! Look at the crowd checking it out!
See additional images of 2005 attractions here.
*LIVE* STREAMING WEBCAM!!!!
Below is a daytime snapshot taken with the Sony (roof) webcam to give you an idea of the field of view. Most of the sidewalk in front of the display is in range.
We would really love for you to sign our guest book before you leave. Just click on the image below. You can view the guest book from this link. We really appreciate your comments!
I want to again thank Richard Denny for referring so many visitors (members of the extended Denny family tree) to our website since 2003. We have enjoyed reading their comments - and those of other visitors as well!. For those of you who have not visited Richard's great holiday site, here is the link.
http://www.geocities.com/Heartland/Lake/7853/special/
The 2004's FINAL year of our original analog display was a great success! The rain in November delayed our progress at times (but, we needed the water then - as we do in 2009)!
Opening night was Friday evening, December 3rd. The display operated through Christmas Day, and was disassembled on 12/26 in advance of the BIG storm that moved in on 12/27.
We added more characters, lighted objects and fiber-optic items to the display for 2004. As a result, our electric bill was larger in 2004 than in the past. On that subject, a Burbank Realtor, Bob Idavia, made a very generous contribution toward the power bill to help us share this display. Thank you again, Bob.
We have loved putting this display together for over 30 years, and bringing joy to thousands of visitors - as well as the online community who can experience it through pictures and videos.
This display was featured in LA Parent Magazine, in the December 2004 issue. Here is a link to the article:
We also were one of three homes that received the award from the Burbank Civic Pride Committee for best outdoor decorations! We really appreciated their recognition of our labor of love to bring the joy of the season to our community!
We also had a nice write-up in the Daily News that appeared on Christmas Day!
In case you did not notice, the display has two themes. The ground level is designed to represent a holiday theme park - and it brings smiles to children and adults alike who imagine they are flying through the air on the swings, riding the horses on the Merry-go-round, or sitting in a train car watching the smoke from the engine and hearing it "chug" down the track. We kept the same theme in our digital light show that we ran from 2005 through 2008. All of the light attractions had computer controlled animation! In 2009, our original 2004 display returns - but with new features, including a brand new Ferris wheel (that is reversible!) and a new more detailed North Pole Express train!
The roof level part of the display remains Christian themed. It is to remind all of us why we celebrate Christmas. It is the time we celebrate the birth of our Lord and Savior, Jesus Christ - who gave us all the greatest gift we could ever ever receive - the promise of everlasting life for all who believe in him! Praise the Lord! This part of the display has remained substantially unchanged (except for the digitally sequenced NOEL sign that we enhanced in 2007).
2006 DISPLAY PROGRESS IMAGES
We get a lot of questions about the current display during the holiday period, and where we are in its creation. Annually, I devote a piece of this website to displaying progress images as of a given date. Here are the progress images I posted in November 2006. We went live as planned on Saturday, December 2nd.
| | | |
| --- | --- | --- |
| 11/18/2006 | 11/18/2006 | 11/18/2006 |
| 11/21/2006 | 11/24/2006 | 11/25/2006 |
Saturday, November 25, 2006, was exciting for us. The Learning Channel spent the day with us filming part of the setup for their show to be aired in December 2007 on the Learning Channel. The show was called "More Crazy Christmas Lights."
The camera crew came over the night of November 30th and took some film of our display and interviewed my wife and me. They told us that we would have a small part in this year's presentation. However, we watched the show and the producer apparently opted to save us for 2007. The theme for the 2006 show was the Virginia tacky light tour - and we would not fit into that theme being on the west coast!
This special for 2007 features our home and our neighbor's - and our ongoing competition for the best display in Burbank. Actually - Keith and I were talking the other night. Our displays are really so dissimilar that it is impossible to make a comparison. Both are beautiful and draw the crowds.
DISPLAY FEATURED IN HOLIDAY LIGHTS MAGAZINE
Folks often ask us about the history of the display, so we make an effort to include that information on this website. Our display for 2003 was particularly memorable as it is the year we were filmed and featured on the Home and Gardens TV channel. I discuss more about that later. Remember that through 2004, our display was what I would term an "analog" display. In layman's terms, it was made of a lot of wood and motors and thousands of lights. Beginning in 2005, we began the transition to a digital display that is controlled by sophisticated digital technology and a powerful computer. In 2009, we return to the analog display - but with the additional of digital lighting technology!
We began assembly of our 2003 Burbank Christmas display on November 1st. It began its daily operation on 12/5/2003, and the last night of operation was on 12/26/2003.
For 2003, we added our first new large attraction in a number of years - the double hammer. We also added the Nemo fish tank (that turned out to be a real favorite of the kids!).
We were are very honored to have our family's Christmas display - with its thousands of lights and extensive animation - featured in the 2003 magazine edition of Holiday Lights. Click on the first image below for more information about the great book that is available for sale by the publisher. The other two images are the actual article about our Burbank Christmas display.
HOME AND GARDENS TV SPECIAL FOR 2003!
We were very excited when Home and Garden's Television contacted us in 2003 to do a special on our holiday display for their television special "Extreme Christmas - Bigger and Brighter" that aired on the dates below:
This program was re-played on Friday, November 26th, 2004 - and was rerun again on Christmas Day, 2004 at 2 PM. In fact, HGTV ran the show for 2005 through 2008 during the holiday seasons.
For this special, HGTV featured eight (8) homes in the United States for this special program. Here is a link to their website announcement of this special program and great write-ups on our Christmas display in beautiful downtown Burbank and the other seven homes featured in their program. To watch the video, click on the AIR TIMES image above.
This was the schedule for the special presentation in 2004. It was shown on Christmas Day at 2 PM.
For 2003, we introduced our newest MAJOR animated attraction in several years - our animated 8' tall double-hammer ride! This attraction had one of the most complex gear drive systems of all of our animations, not to mention the specialized electronics designed to operate the independent lights on each of the long rotating arms that support the cages for the riders. The new double-hammer attraction was a huge hit with the visitors in 2003! You can view it (along with the other new 2003 attractions) on the Photos web page. I gave this attraction to our oldest son, David and his wife, Lisa, who proudly featured it in their display. We gave him most of our digital display attractions in 2009, and now, the double-hammer has returned home and will be featured in our 2009 display!
We also featured for the first time Nemo's Fish tank. David and Lisa came up with the concept. David focused on its construction and animation while Lisa used her artistic skills in painting the colorful fish. The tank had a black light that really brought the animated fish to life! A rotating mirror ball made the water appear to be moving with air bubbles.
2003 also featured the introduction of our own designed and built electronic sequencing unit that controls the large NOEL sign on the roof to this day. Finally, we added some new characters, two 4-channel digital light controllers, more lights and other enhancements to the already large animated Christmas display!
2002 was a great year for our display - the largest one we had ever assembled to that point in time. We enjoyed sharing our animated 2002 Norton's Winter Wonderland Christmas Display with the thousands of visitors, with the television viewing audience (we had great media coverage in 2002) and with the virtual community.
In 2002, we also had a great write-up in the Daily News. Click on the newspaper below to read the article about our Christmas display (and the great 2002 display of our former neighbor, Keith LaPrath).

We also had extensive television coverage. If you missed the CBS-2, NBC-4, KCAL-9 news or the CBS Early Show coverage, you are in luck! We have captured their live television broadcasts!
2002 ADDITIONS TO THE DISPLAY
During the holiday season, visitors always ask us what we have added new for that year. In 2002, we created a special web page to provide this information for that season.
If you click on "Recent Additions to the Display" you will see what we added for 2002. One of our major additions for 2002 was all of our new train track. We also added a new operating train crossing gate, more lights, some new characters and other small decorations.
MORE HISTORY OF THE DISPLAY

For over 40 years, our entire family has been creating elaborate animated home-made Christmas displays. We built our first Christmas display in 1970 at our other home in Burbank.  This display featured

a small number of lawn decorations and lights. With each new season, we added more lights and decorations.

As the family grew, so did the display! Our children, their wives and grandchildren contribute their time and labor to help my wife and I with this annual project. As our Christmas display has grown, so has the demand for electricity increased as well. Starting with the 2003 Christmas display, with the new major attractions of the double-hammer and Nemo's fish tank, we increased the power to eight 20-amp circuits! Yikes! The 2004 display used even more electricity! 2009 - with the combination of the analog AND digital technology, may break the record for power consumption!

As you can see from the pictures on the pages of this web site, our Christmas displays take up our entire front yard and almost all of our roof! We have just about reached the point where we have no more room - or power capacity - to add anything else!

We are frequently asked just how long it took us to put this massive holiday display together. In 2002, we began assembling the display on November 1st and finished on December 4th. We began assembling our 2003 Christmas display also on November 1st. We completed it on December 5th - just in time for filming by HGTV. For 2004, we began the display's assembly on November 1st as well, and finished on December 3rd.

Our new 2009 display - and in fact all of our displays from 2009 through 2013- took 5 weeks to assemble (we began 11/1 and will go live early December). Of course, we actually started weeks before that in the back yard and garage working on attractions.

As you can imagine, the time - and expense - required to create and operate this display is phenomenal. Why do we do it year after year? The answer is really pretty simple. The joy we see in the faces of the thousands of visitors who crowd our block to view and enjoy it makes the hundreds of hours of our time and the cost worthwhile!
PICTURES OF THE DISPLAY IN PAST YEARS
Below are pictures of our Christmas displays for 2002, 2001 and 2000. We think you will agree with our characterization of the Christmas display as "elaborate."
* 2002 DISPLAY *
* 2001 DISPLAY *
* 2000 DISPLAY *
And this is when our display started in 1970!
Going back further in time, here is a snapshot taken in 1965 when Dick (me) was still in college living at home. Our family's holiday tradition was making a tumbleweed snowman. Mom, dad and I would trek out to the desert (a long drive in those days...) to find three different sizes of tumbleweeds. We would put them in the car and head back to Eagle Rock (where we lived). Dad would use a Kirby vacuum with the paint sprayer attachment to paint the tumbleweeds white. Here is a picture of our finished snowman standing proud in front of our Eagle Rock home.
There is a funny story about these tumbleweeds! One year after returning home from the desert, dad set up the tumbleweeds in the front yard and loaded the Kirby paint sprayer attachment with white paint (all paint was oil-based enamel in those days - latex had not been invented). He turned on the vacuum and pointed the sprayer at the snowman. Nothing came out of the sprayer, but dad could see the paint level going down in the bottle! Yikes - he suddenly realized that he had hooked the hose up to the wrong side of the vacuum! He was sucking the white enamel paint into the fan and bag of the Kirby (they were - and still are - expensive vacuums)! What a mess he had to clean up!
LARGE-SCALE ANIMATION MADE THIS DISPLAY UNIQUE
What makes our analog holiday display so special and unique is our extensive use of animation of large attractions.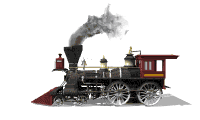 Just like the train above, our train's wheels and connecting arms move. It even smokes and has its own sound system that plays the sounds of a steam whistle and the classic chug-chug of the locomotive. The original train is on display at a neighbor's home on Catalina Street (1 block west of our street - Florence - and 1 block south of our home - on the other side of Verdugo Avenue). We enjoy driving by and seeing our former train in operation!!

The display features lots of animation! The train signals operate; the hammer's arms spin in opposite directions - meeting at the top and bottom of their travel; the merry-go-round turns while the horses move up and down; the Ferris wheel rotates; the swings fly through the air; the plane's propeller spins and its wings rock as Snoopy comes in for a landing- and the list goes on.

When we announced to neighbors and family that we are bringing back the original display in 2009, they unanimously agreed that they really missed the analog display and are so pleased that it is returning!

PICTURES, PICTURES AND MORE PICTURES

Check out the photo gallery for additional pictures of our holiday displays. We created some MPEG movies for you to enjoy of our animated attractions!

MUSIC "MIDI" FILES FOR DOWNLOADING

On the Music page, we have included links to about three dozen great Christmas midi songs for your enjoyment. To hear them, you will need Windows Media or a compatible midi player.

Also, you can save these midi files to your hard disk for playing later. Just right-click on the song you want to download on the MUSIC page, and then left-click "save target as" - and select your target folder where you want to save the file on your hard drive. If you have a CD-RW drive, you can create an audio CD to play them in your audio system.

Following is a link to a map

to assist you in finding our display (of course, drive here only when it is up and operational). We are located at 513 North Florence Street, Burbank, California. We are between the 134 and I-5 freeways in the heart of Magnolia Park. Just look for the glow in the sky!

With this major Christmas display and Keith LaPrath's Winter Snowland up the street, parking on our block has always been a challenge. We tend to get more visitors on weekends, so viewing the display during the week is advisable. If you are unable to find a place to park on Florence, there usually is parking available on Clark Street or Verdugo Avenue. Both streets are a short walk from the Christmas displays. There are other beautiful displays this year on the block as well.

As Christmas Eve approaches, our block's sidewalks are usually packed with people walking to get a closer look at both displays. A number of visitors have compared our block to the crowds of Universal's City Walk (which is just about 3 miles from our home)!

This is important! If it is raining, or rain is

in the forecast for that evening, the display will be turned off This means, no lights and no animation!!!! For your convenience, I have added a link to the weather forecast for Burbank at the end of this page. NOTE: You can view the webcam in the evening to see if the display is on.

FAQs (FREQUENTLY ASKED QUESTIONS)
Every year, we always received a lot of questions from visitors about the holiday display. Several years ago, we added a scrolling message board. It used to be on top of the train station. Now, it is on the roof just about our large picture window featuring the revolving Christmas tree. For our on-line visitors, we have added a page on this site that lists the frequently asked questions with their answers. You can click the FAQ page link to read them. Note: When you have finished reading the FAQ's, you can either use the back button on your browser to return to this place on our home page, or click on the links at the top of the FAQ page to return here - or to visit other pages on this site.
Just for the Kids!
Hey boys and girls! Santa now has E-mail at the North Pole, and has asked us to help children who visit our page by providing a spot on our website for them to send him their wish-list! So, here is your chance to tell Santa what you are hoping he will bring you for Christmas!
Warm up those fingers (or ask for help from your mommy, daddy, brother, sister or a friend) and send Santa an E-mail telling him what you would like him to put in this toy sack just for you!! Just click on the picture of Santa reading his E-mail! Write to him soon!
OK, it is now time for you to pour your favorite drink, grab a snack and sit back to enjoy the videos, pictures and the great music.
---
PAST SPONSORS FOR OUR DISPLAY
Putting on this annual show was a huge undertaking. Hundreds of hours were spent in the design of the attractions, procuring components, assembling, testing, and monitoring its operation during the holidays. The costs incurred in building such a display were significant. We were able to continue enhancing and sharing this display because of the generosity of sponsors who contributed towards our costs, as well as visitors who experienced the joy of seeing the display in person, and wished to help us with a small donation to keep it going. Our power bill (as you might imagine) took a HUGE jump during the holiday season because of the 90+amps this display required.
In recognition of their generosity, I am proud to list the many sponsors of our past display and encourage visitors to this website to consider these companies when seeking a source for services or products that they offer.
We extend our appreciation to and acknowledge these great companies and individuals below:
OUR VALUED SPONSORS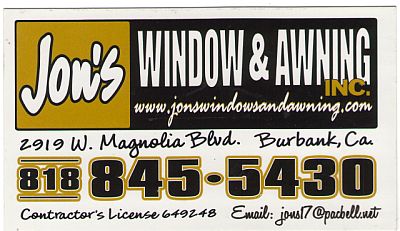 We would like to thank Jon's Window and Awning of Burbank for their contribution of labor in the manufacturing of the gorgeous red canvas top for our Merry-Go-Round. I first met Jon about 25 years ago when his company installed a beautiful patio cover. It still looks like the day it was installed. Their quality of construction is evidenced by the fact that it withstood the tremendous high winds we had in December 2011!
Our original Merry-go-round cover that my wife made in the mid-80's needed desperate replacement. We met with Connie at Jon's shop on Magnolia Blvd in Burbank and gave her the specs on what we needed done. We had the material but needed a company with the expertise in working with canvas to actually cut out and sew this challenging cover. This was a rush deal as we had an impending deadline for our go-live date.
Jon and Connie arranged to have one of their expert seamstresses tackle the project on a rush basis. We picked it up 4 days later on Friday, December 2nd and raced home to put it on. Wow - Anna (the seamstress who completed our project) did a beautiful job - it fit perfectly.
Jon contributed the labor to make this cover for us in recognition of the many years he and his family have enjoyed the display. We deeply appreciate his generous contribution - and also Connie's significant role in getting this project completed so quickly! We hope you can see the beautiful cover in person.
We ask that if you have needs for windows, awnings or any other product that Jon's company offers, please give him or Connie a call. From my personal experience, as well as from my neighbor's praise about the beautiful awnings Jon made for them, their work is simply outstanding.
We'd like to acknowledge FULLER MANUFACTURING, INC that contributes material in helping us create our display, and encourage you to consider this company as a source for custom electronic or audio products.
Fuller Manufacturing, Inc
315 South Flower Street, Suite #102
Burbank, CA 91502
(818) 238-9911
Fuller Mfg designs and manufactures custom products for the entertainment and other industries. They are heavy into secured telecommunications. They also developed and manufacture a very unique product called Taperwire - ideal for getting power and audio signals from one point to another. It is razor thin, can stick on a wall and be painted! They generously contributed cable for our digital trunk lines and other components needed for our display. Here are links to their webpages:
http://www.fullermanufacturing.com/index.htm http://www.taperwire.com/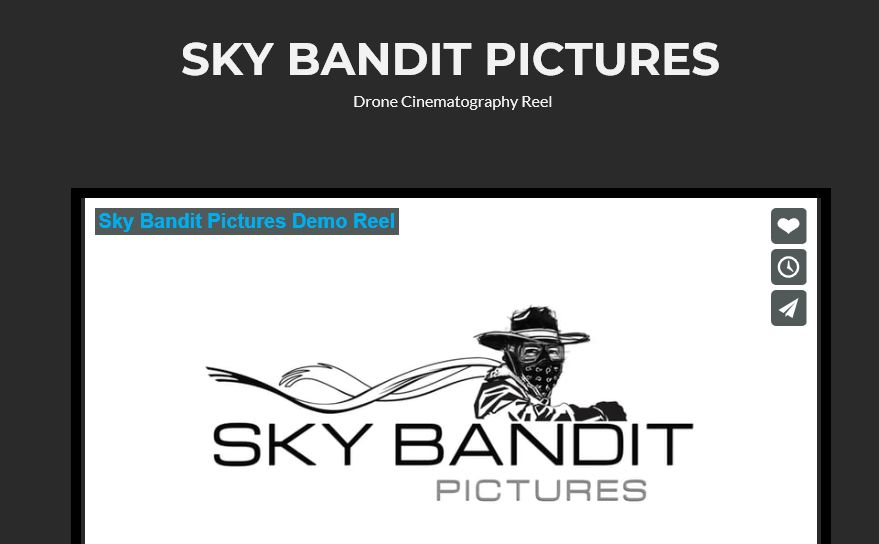 We wish to thank Dan Coplan for some great aerial photography of our 2017 display. Dan has a wealth of experience in aerial photography and gave us some great footage that we will be using for our website. If you need any aerial photography of your properties, displays, events, etc, I give Dan my highest recommendation. Here is a link to his website.

Thanks, Dan, for a job well done!
We would like to acknowledge the generous contribution by AMERICAN LOGOMOTIONS, INC: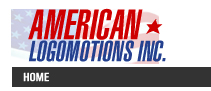 (http://www.yourneonlogo.com/) for donating a beautiful animated neon flag for our display!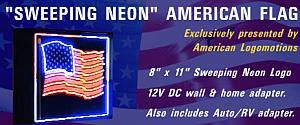 Please visit their website for their other beautiful animated neon products!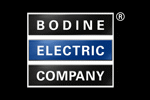 Bodine gear motors are used to power our Ferris wheel, the double-hammer and the flying swings attractions. These motors are unbeatable for quality and durability. They are available in many different configurations to fit just about any application you need. We appreciated their help, as well as a donation from their distributor in the area - Minarik Corporation.
We wish to thank Lonnie and the company for whom he works, Circulating Air, Inc, for their generous contribution of time and materials for our new North Pole Express train's boiler! Their craftsmanship is simply outstanding! I recommend you consider Circulating Air for your needs involving:
Mechanical Contracting
Mechanical Engineering
Air Conditioning
Heating
Piping
Sheet Metal
Development & General Contractors
Electrical Contracting
Window Decorations / Detail on North Pole Express Train
I ran across Peggy and Lisa decorating the window and door of my favorite barber shop (Phil's Barber Salon - Phil has my vote for being the greatest barber in Burbank) on Alameda Street in Burbank during December 2010. I asked if they did residences, and they did. We set up an appointment, and they came over on December 9, 2010 - and did a fantastic job in decorating our front windows and adding detail to our train. Here are a couple of images of their work on our 2010 display: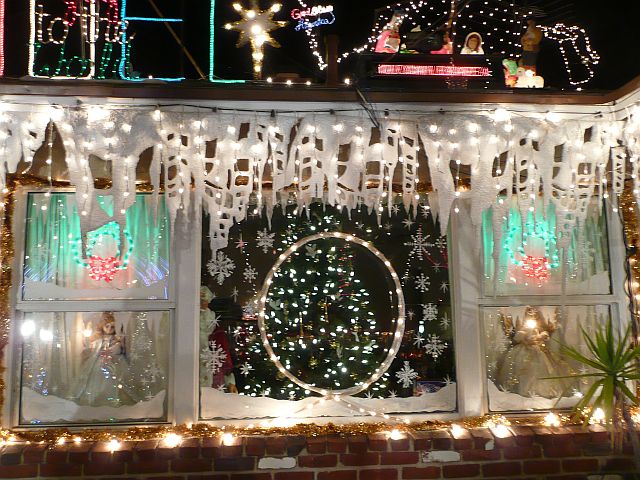 Well, in 2011, we completed our train station - and it needed some fancy trimming. So, we invited Peggy and Lisa to come over and doll up our windows and the train station. Wow - check it out! Lisa and her mom. Peggy, are posing with their great creation! The windows came out fantastic as well! Thanks to you both for adding your creative talents to our annual display!
Here they are - back for 2014 in December adding their special touches to the display!!!
Here is their contact information if you need some outstanding decorating on your windows or any of your decorations!
Once again, we welcome sponsors who would like to contribute their support in helping us share this display year after year with the local community and others around the world who visit our website. In exchange, we will provide you with acknowledgement on this very popular and frequently visited web site!
In getting our 2018 display set up, we had help from our sons, daughter-in-law (Lisa - who did a significant amount of painting for us!!), our son's (and our) long time friend - Dave Coss - and our grandson Stephen. Keith also helped us with specific tasks. Their assistance was very appreciated - we would not tackle this display without help.
For our 2017 season, our sons (David and Chris), granddaughter (Kristin), Adam (a senior at Burbank High who helped us last year) have been a huge help. Our daughter-in-law, Lisa, is working on painting to refresh some of our wooden characters, as well as to paint some new ones David cut out to add to the display! Our granddaughter, Hannah, helped Pam putting the elves and toys in the Toy Shop!
For our 2016 season, we had help from our two sons (David and Chris), our grandson, Stephen, our other grandkids, and a really cool student from Burbank High - Adam - who helped us with the set-up and tear down. Keith LaPrath - who has a gorgeous display up the block from us (it is not operating for 2016 - he took a break this year, but tells me he will be back next year!) also helped with parts of it.
For 2015, we again had help from our two sons (David and Chris), along with our daughter-in-law, Lisa (who did some painting for us of the merry-go-round horses), our grandson, Stephen and our granddaughter, Kristin, and other family members as they had time. Without their help, this display would not have been set up! Our neighbor and dear friend, Keith LaPrath, also gave us a hand for a number of tasks. Thanks, Keith!
Our grandsons, Stephen and Devin, were really a big help to us for 2014's display. Our granddaughter, Kristin, also was a big help for our 2014 display - spending a day with us to get the big items out of storage, and to assemble them. Thanks, Kristin!
Our sons - David and Chris - help us each year in the set up and dismantling of our display. We so appreciate their help as this is a major project we undertake each year! We also had Lisa (our daughter-in-law) helping us in the tear down for 2014. Thanks a bunch, Lisa, for your help as well! I should note that our other grandkids - and our daughter, Debbie, do give us a hand when we need them.
Our next door neighbor, Wilfred - whose home next door is nicely decorated (with a beautiful window display created by his wife, Judy!) comes to my rescue during the season when he sees me needing an extra hand. He and Judy have been such great neighbors - we are so fortunate to have them next door!
We would like to also thank the thousands of visitors who have stopped by and enjoyed the display - and all of those who make a small donation to help us deal with the annual cost for new attractions and the power bill to run this display each year! Without your generosity, we would not be able to do this!
Finally, we would love to hear from you and what you thought of our website. We are always looking for ways to make it better, so any suggestions would be most appreciated. Just click on the wreath below to drop us a line. You can also leave your comments in the guest book (the link is near the top of this home page).

Dick Norton
Merry Christmas and Happy New Year from our home to yours!