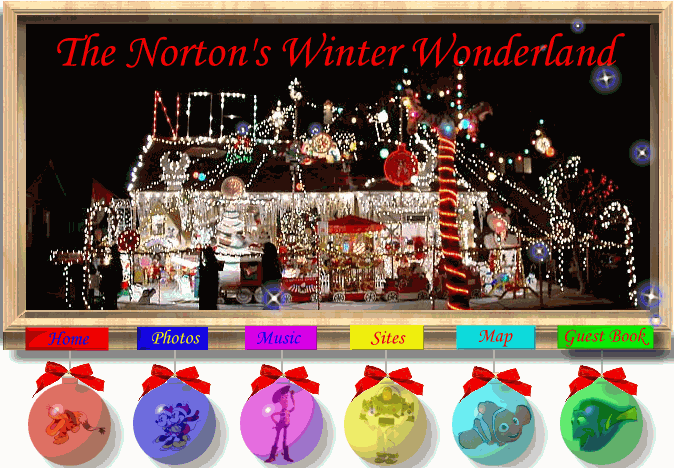 FREQUENTLY ASKED QUESTIONS
Our many visitors ask us many questions about the display. We have a scrolling message board on the roof that provides answers to some of the more frequently asked questions. For the benefit of those of you who cannot make it over to see the display in person, we will share some of the FAQ's and their answers. The questions cover both the digital light show (we ran from 2005 through 2008), the former analog display, and our new hybrid analog/digital display that we launched in 2009!
Q. When did we start creating the display?
A. We started in 1970 with just a few items and a lot of lights. Each year, we have added new characters, animation and lights. For 2003, we added our newest MAJOR attraction - the double hammer! 2004 was the last year of our "analog" display. In 2005, we introduced our digital theme park light show, and it ran through 2008. In 2009, we brought back our analog display and added digital features to it.
Q. How long does it take to set up?
A. Usually about 5-6 weeks. For example, we started putting up the display for 2009 on November 1st. It will be done by December 5th.
Q. Where do we store all of this stuff?
A. How are YOU fixed for space? Storage is a challenge. Fortunately, some of the hand-made display unbolts into flat sections for easy storage. For this year, we are looking to rent space to store the larger items intact (to save us time next year by not having to assemble so many pieces).
Q. Doesn't this cost a lot to run?
A. You bet! It consumes about 90 AMPS that typically adds about $125 a week to our electric bill. In the year 2000 during the energy crisis in CA, we were fortunate to live in Burbank - a city with its own power generation equipment. While much of California was in a power crisis, those cities with their own power generation equipment were largely unaffected. We were able to run the display as planned.
Q. Do you work for Disney?
A. Ha ha - we get asked that all of the time! No, none of us work in the entertainment field. It is just that we have a number of talented individuals in our family and we combine those talents to create this unique display. For example, one of my sons will come up with a creative idea of what would be cute to add to the display. My task is to come up with the electronic and mechanical design to make it work. All of our family members contribute to the success of our annual display.
Q. How long do you leave it up?
A. We usually leave it up until a couple of days after Christmas. This primarily depends on the weather. We can't put it away wet, so if rain is forecast, we will shut it down early and get it stored out of the weather. Check on our site for information regarding the last day of operation.
Q. What was new for 2003?
A. We added several significant attractions. The largest was the double-hammer attraction. It is over 8 feet tall and has rotating/illuminated arms. We also added Nemo's fishtank - a cute attraction that is sure to be a hit with the kids! We also have added some lighting on the NOEL on the roof - sequencing the letters in a unique patters. There are some new cut-out characters and other small items.
Q. What was new for 2002?
A. In 2002, most of our additions were small in size - new animals, street lights, more lights in general and some new characters. When we fired it up on 12/1/02 to check out the circuit drain, we discovered that we added another 8 AMPs of current draw. We had to scramble to find another circuit to supply that drain. Currently, the display runs on six (6) 20-Amp circuits. Our newest major attraction - the Double Hammer - will add amount 8 amps of current draw.
Q. Why did you switch to a digital light show?
A. There are a couple of reasons. First, it was time for a change. We had no room to enlarge the display to allow me to build new attractions. Second, with our neighbor who had been a constant source of help moved away, my wife and I realized that this analog display was just too large and heavy for us to do alone. While our sons helped when they were available, they both have families - and one lives almost 60 miles away. Therefore, we decided that 2004 would be the last year for the analog display.
Q. How difficult is it to work with rope light?
A. It is actually quite easy! The tough part is building the metal frames to which the rope light will attach! I purchased a wire-fed arc welder with the proceeds from the sale of our old display. I buy the metal (cold rolled steel) from a local industrial metal supply company. After designing the attraction, I cut and weld the metal together. Once done, I paint it (steel will rust...). Then, it is time to apply the rope lights. The brand I use is Crown - available from many retailers online. I use 3/8" rope light (it is available in larger diameters, but more difficult to bend). You can cut it in 18" lengths (be careful - some rope light manufactures allow you to cut it in only 3 foot lengths). I buy invisible splice pieces to join two lengths for color changes. You will need a heat gun (about $20-$30) to shrink the piece of clear tubing that covers the splices. I bought different colors of small wire ties to hold the rope light to the frame so it would follow the desired shape.
Q. Does rope light use a lot of power?
A. You bet! 150 feet (a typical roll - costing between $60-$90 depending on where you buy it) uses about 8 amps. LED rope light uses a fraction of the power - but costs an arm and a leg. For example, a 150 foot roll of LED rope light can be over $500 - 8 or more times more costly than standard rope light!! Further, each length needs a transformer - another $5.50 or so. Our Ferris wheel has eight spokes - each with a different color of 3' length of rope light. That cost me about $10 in material (rope light), and $12 in power cords - a total of $22. To do the same eight spokes in LED light would cost me about $83 in rope light, plus $50 in power cords and transformers - totaling around $140! Further, LED lights can only be either on or off. Standard rope light can also be faded up or down (I use that feature in the Ferris wheel display).
Q. How are you controlling the light animation?
A. I use digital controllers from Light O'rama. Each digital box (costs around $350 or so) has 16 channels (we have 6 boxes). The boxes are connected in series, and by way of a Cat 5 cable, connected to a powerful computer. The software controls each channel and allows you to have that channel turn on, turn off, shimmer, twinkle, fade up or fade down. You can control the timing of the functions to fractions of a second (I use the default 1/10th of a second). The animation can be run stand-alone, or in sync to music.
Q. How long does rope light last?
A. My experience with it has been from 2005 through 2008. I have had several failures (where one 18" section goes out). The fix is not difficult - cut out the bad section, and then using the invisible splices, insert a new 18" section - and then heat the clear shrink tube to seal the connections. Presto - you are back in business. Last year, the animated toy shop had only one 18" section go out at the beginning of the season. In 2006, I had one of the elf's hats go out (an 18" section of green), and a 18" section of pink on one of the hammer arms. That was it. The manufacturer claims the rope light is good for 25,000 hours - but since I am doing fast switching on and off (like for the hammer attraction), I expect the life to be much less.
Q. Why did you switch back to the former analog display?
A. Good question! We truly enjoyed the light show - and it was a breeze to set up compared to the analog display - and took far less space. But - as visitors told us, they really missed the former display. So, I talked with the wife about this, told her I would get a storage unit so that many of the attractions could be stored assembled (making setup easier), and we agreed to switch back - if I could get back enough of the attractions! So, I bought back all but the train and Ferris wheel - both of which I totally built in 2009. We are thrilled that we were able to do this - as are the visitors we have talked with in 2009 and 2010 to date! At the time we brought back the former display, we updated it with digital technology. For example, the new Ferris wheel is reversing - and that feature is computer controlled - as are the "tent lights", the NOEL sign and various other lights in the display.
Q. How do the webcams work?
A. Our roof cam is a Sony webcam that is connected to our in-house network. It is self-contained and a breeze to set up. It has very clear resolution in the day (check it out), but in low light, it is not as sharp as I would like.
Our tree cam is an AIRLINK 101 747 - a night vision camera. It has better night viewing capabilities, and it, too, was pretty easy to set up.
Both cams have pan and tilt capabilities - meaning, the visitor can move the camera round to see the entire display. Both also have sound capabilities.
Q. What is new for 2010?
The biggest change was our replacement of the bottom floor and support system for the Merry-Go-Round. The old (and original) floor was made of wood and over the many years, it warped and became difficult for the motor system to spin. Our new floor is a composite material, with a plywood/aluminum cover base that rides on a new roller system. It is now very smooth, and turns with less resistance which is good for the drive system.
We also added our second webcam (the tree cam), as well as new ornaments, lights, and other smaller items. We hope to be able to finish our train station this season, but time will tell if we are able to do this.
We also updated our scrolling sign with a newer model (Pro Lite II) - this one can be programmed from a computer making the data entry much easier than with the hand-held remote. We also replaced the sound system for the Merry-Go-Round with a new model - much clearer, and louder.
If you have any other questions about the display, please write to us at the address given on the home page.
Updated: 12/5/2010
---