SKAGWAY
Click a button to go to that page
A place exists in Alaska where the past lives on, where the cries of "gold in the Yukon" still echo from steep canyon walls, where the sounds of barroom pianos and boomtown crowds ring out in the night. It's a place where the romance and excitement of yesteryear linger around every street corner, every bend in the trail. That place is Skagway - our third port in our sea adventure! It is referred to as the "Garden City of Alaska." It is located at the northern tip of Alaska's Inside Passage - about 90 miles northeast of Juneau, and 110 miles south of Whitehorse, Yukon. The town got its name from the native Tingit name "Skagua" which originally translated as "the place where the north wind blows." Modern translations read "a windy place with white caps on the water."
The maritime climate brings cool summers and mild winters. Average in the summer is between 45-67 degrees; winter temperatures range from 18-37 degrees. It receives about 26 inches of rain a year (less than many parts of Alaska), and an average of 39 inches of snow. This town is home to 850 year-around residents (brave souls!) and encompasses 455 square miles of land and about 11 square miles of water.
Skagway became the first incorporated city in Alaska in 1900. At that time, the population was 3,117, and was the second-largest settlement in Alaska. It is now a restored gold rush town and the headquarters of the Klondike Gold Rush National Historical Park.
At this port, we did not get time to check out the city. We needed to get moving quickly as we were heading out on an exciting excursion that would take us to British Columbia (dust off the passport) and then the Yukon territory. The trip would be by a luxury coach, and then the return trip back to Skagway would be via the White Pass Railroad. This was an all-day adventure!!! And it was really cool!!!!!! Read on for some history about this really cool railroad!!!
White Pass and Yukon Route (WP&YR)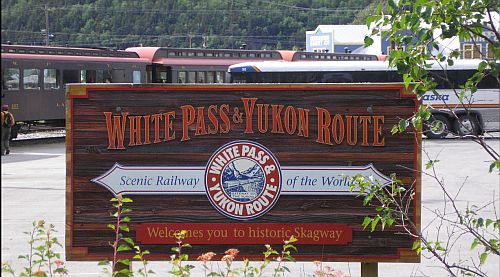 I would like to share some history of this railroad which was our great excursion experience in Skagway. It climbs from sea level in Skagway to almost 3000 feet at the Summit in just 20 miles and features steep grades of almost 4%. It had tight curves that called for a narrow gauge railroad (narrow gauge means it can turn sharper). The rails were three feet apart on a 10-foot wide road bed and that meant lower construction costs. Construction began in May of 1898 - and in July of that year, the railroad's first engine was placed in service covering the first four miles of completed track! The WP&YR was the northernmost railroad in the Western Hemisphere.
There were 110 miles of track to be laid that required cliff hanging turns of 16 degrees, two tunnels and numerous bridges. The workers reached the Summit of White Pass on February 20, 1899. By July 6, 1899, construction reached Lake Bennett and the beginning of the river and lakes route. 35,000 men worked on the construction of the railroad - some for a day, others for a longer period, but all shared in the dream and the hardship.
The $10 million project (a lot of money in those days!) was the product of British financing, American engineering and Canadian contracting. Tens of thousands of men and 450 tons of explosives overcame harsh and challenging climate and geography to create this wonder of steel and timber. We were very fortunate to experience the thrill of the ride on the WP&YR!!
This railroad is symbolic of triumph over challenge. The railroad was considered an impossible task but it was literally blasted through coastal mountains in only 26 months over a century ago. However, the zenith of the Klondike Gold Rush had passed by the time the railroad was completed. Despite conquering the significant snowfalls with the rotary snowplow and spanning Dead Horse Gulch with the tallest cantilever bridge in the world at the time, it was time to diversify to survive. The WP&YR evolved to encompass wharves, stage lines, paddle wheelers, hotels, aircraft, buses, pipelines, trucks and ships to cater to emerging market conditions. Self-sufficiency and the need for continuous progress made innovation a hallmark of WP&YR operations. It pioneered the "Container Route" - the intermodal movement of containers by ship, train and truck in 1955. In 198, the company reinvented itself as a tourist attraction for a tourism market after shutting down as a fully integrated transportation company 6 years earlier.
The railroad used to operate year-around in its freight hauling days. But now, if runs from early May through late September to coincide with the cruise ship season. Absolutely, we would recommend taking a ride on this historical railroad if you find yourself in Skagway!!
| | | |
| --- | --- | --- |
| Arriving at Skagway Port | Interesting wall - like a bulletin board | Another view of the wall |
| On our coach heading to Canada! | Going through town of Skagway | Where you can buy tickets for train |
| Old time brothel (no, the ladies were out....) | Some famous statute (do not remember...) | Rotary snow plow train engine |
| Main street Skagway | Place where beer is made | 20 miles from Canadian border |
| River flowing on hillside | On the road to British Columbia | Getting closer to the border |
| On highway to Canada | Oops - better brush up on metric system | Looking into Canada |
| Almost to the border checkpoint | Beautiful lake in Canada!! | Time for a restroom break |
| White Pass train - we will be on this later | Heading down the track | Heading to Carcross |
| Beautiful Canadian lake | OK - we are official in B.C. | This proves Bill and Mary were there!! |
| Yup - Pam and I were there, too! | Beautiful - and BIG lake!! | This is one cool store - and we went into it! |
| Getting closer to Carcross | Caribou crossing? Don't see that in Burbank! | Just about to the town! |
| Sign greeting visitors | Welcome to Carcross | Looks like they have about anything you need! |
| Not a real caribou, folks! | Carcross public library | Stopping here for a break |
| Stopping here for a break | Dall sheep on the mountain | A desert - in Alaska? |
| Lots of folks checking out the desert! | Leaving Carcross | Coming to a pretty lake! |
| Moon Lake | There is our train for the return trip! | We are right at the border |
| Moon Lake | There is our train for the return trip! | We are right at the border |
| On the train back to Skagway! | View of our train | Is that a trestle ahead? |
| Are we going to cross this?????? | Not today (gulp!.....I hope!) | This train makes some sharp corners! |
| Beautiful scenery | View of our diesel engines pulling us! | What glacier? I don't recall....... |
| Read the story here about Buchanan | Hey! We can see our ship from train!!! Cool! | Small bridge ahead.... |
| Almost to the end of the ride | Leaving the depot | Returning to our ship after a great excursion!!! |
| Walking back to the ship | Continuing our walk | Back at our ship! |
VIDEOS
__________
Heading out on our coach ride beginning with a short tour of Skagway
________________
Stopping to pick up hikers (the train does that in these parts.....)
_________________________
Riding the rails!
____________________